"Georgia predominantly is a winemaking country, and on her territory you can hardly find a corner where by natural conditions a grapevine cannot grow."
Ekonomist Gruzii
as quoted in "The Wines of Georgia" by Lisa Granik
A diverse land for vines and wines
Georgia is situated on the eastern shores of the Black Sea, where Europe meets the Middle East and Asia. This self-contained, mountainous country is surrounded by Russia to the north, Turkey and Armenia to the south, Azerbaijan to  the east, and the Black Sea to the west.
A small country, Georgia covers 27,000 square miles and is roughly the size of Ireland.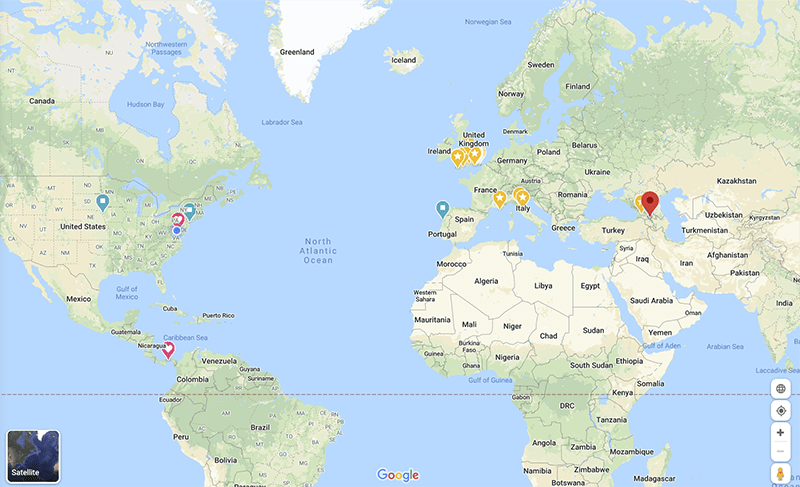 Georgia has an incredibly varied climate and topography that make it ideal for cultivation, with some of its regions ideal for viticulture.
Despite its compact footprint, Georgia encompasses a range of elevations. The topography climbs from the shores of the Black Sea to the soaring peaks of the Caucasus Mountains, Europe's highest mountain range.
More than one-third of Georgia's land lies in the mountains. The Greater Caucasus Mountain range forms Georgia's northern border with Russia. There, the soaring, snowcapped peaks reach up to 5,000 meters in altitude. The southern slopes of the Caucasus merge into the central lowlands, near the Black Sea's mineral-rich shores.
The Greater Caucasus Mountains create a barrier that shields Georgia from cold air from the north, while leaving its western range open to the Black Sea's warm, moist air—essential to the region's successful viticulture. Shielded from extremes in temperature, vines are protected from both harsh sun and bitter cold.
Georgia experiences a vastly varied climate, from subtropical to alpine to near desert-like:
• Western Georgia's humid, subtropical maritime climate sees rainfall year-round.
• Eastern Georgia varies from moderately humid to dry.
• The Kolkheti Lowland contains several climate zones, which change as the elevation increases—subtropical, moderately warm and moist, cold and wet, and alpine.
The Caucasus Mountains are full of rivers and streams that drain mineral-rich water into the valleys, contributing to the characteristic flavors of the country's wines. The Kolkheti Lowland, near the shores of the Black Sea, is covered with rich mineral deposits carried down by western Georgia's major rivers—the Enguri, Rioni, and Kodori.
These rivers and streams also helped form the limestone cliffs and caves that dot Georgia's landscape.